Replacing your handlebars is easy! All you need to do is identify whether you need a 1⅛" or ⅞" bar diameter. From there, pick out measurements that will suit your riding preferences. This page is a resource for off-road handlebars. (The information may not apply to street bars.)
You can also use the buttons below to see all of our offerings for either off-road or street handlebars.
Handlebar Buying Guide:
How do I know if my handlebar tube diameter is 1⅛" or ⅞"?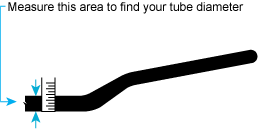 Measure bar diameter near center clamp area with a ruler. The diameter where the grips attach will always be ⅞".
Bar Measurements
There are three measurements to consider.

Popular handlebars